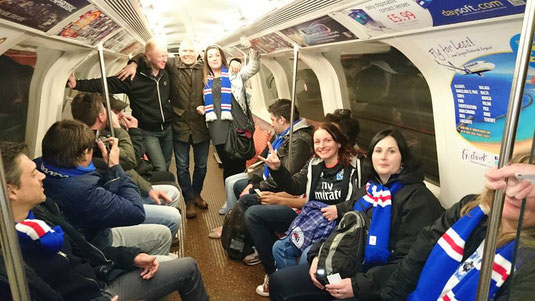 Glasgow Rangers and Hamburger SV are connected by a close friendship since years, including visits of each others matches. Even some guys of our fanclub were heading to Glasgow, to support the famous Rangers on a home match. On this trip, we met Ricki Neill, who took us by the hand and prepared the ground for a great night (for future generations: visit the Bristol Bar!). Ricki introduced himself as "Director at Rangers First", what none of us could sort out in the first place. After some sunday google sessions, it has shown out, that he's got a very interesting project running. In the meantime, Ricki was so convincing, that our fan club became a proud member of Rangers First. In the meantime, Ricki was so convincing, that our fan club became a proud member of Rangers First.
Rangers First is a supporters trust in the form of a non-profit organisation (community interest company, CIC), which makes it its business to aquire as much Rangers shares as possible. After several financial problems in the clubs past, e.g. leading to insolvency in 2012 and subsequent further misusage of club assets, many fans withdrew from the Rangers. Rangers First now tries to influence the club in a way to achieve transparency and control.
Rangers First was founded in March 2014 and actually has about 14.000 members, currently holding 3,5% of the club shares. The project was developed with support by Supporters Direct, which is a british governmental organisation, even coaching some famous fan projects, like AFC Wimbledon and FC United of Manchester.In principle, there are 4 models of Rangers First engagement.
Regular contribution:
The Fan: 5£ per month, or 60£ per year (7€/83€)
The Supporter: 10£ per month, or 120£ per year (14€/166€)
The Founder: 18,72£ per month, or 224,64£ per year (25€/310€)
or single contribution:
Club 1872: 500£ (690€) for a lifelong membership (restricted to 1872 members, by the way, Jörg 'Ali' Alberts is among them)
We had a short interview with Ricki on this interesting project.
In Germany, we are happy, still to have the so called 50+1 rule, meaning that the club must hold the majority of the percentage of votes in the company controlling the professional football team, even though this is undermined in many cases. The situation in Great Britain is completely different, and a little hard to understand from outside. Can you give a short overview on the structures and dependencies between ownership, control boards and team management, especially for Glasgow Rangers?
Fan Ownership is quite new to the United Kingdom and unfortunately many fans have not taken on the idea yet. It's only been when teams seem to get in to trouble that the fans then seek to help out their club. My personal goal would be 25.1% as that is when important assets can't be sold without us knowing about it and being able to put a stop to it if necessary. Mark Warburton has been an excellent signing for Rangers so far. He is starting to change many things in Ibrox starting from the youths all the way up. His attacking style football has been welcomed by the fans and we look forward competing against Celtic next year.
Glasgow Rangers were distressed by several financial disasters in the last years. What was the motivation to form a fan based ownership community on this background? Were you confident, to accomplish such success in the first place? Did you have examples from other clubs doing something similar?
After Rangers went in to administration, a group of Rangers fans got together to come up with ideas on how they could help the club get back to where they should be, at the top of the league and fighting for a place in champions league football. The group of fans heard a presentation from supporters direct regarding the Community Interest Company and this was the route that they decided to take. The group of fans approached the company that I work for 'reflexblue' and asked if we would be able to help them market the idea. Membership was a bit slow at the start and we only really had about 400 members but everytime there was another bad news story heading towards Rangers our membership would take an increase. I then stood for election to be a director for Rangers First and was honored to be voted in. Personally I knew how big Rangers First could be as we have an amazing support worldwide, within a year we raised over £1.2 million pounds and owned 3.52% in the club. It's been an amazing achievement by the RF members.
On your Webpage, you are stating Supporters Direct as an advisory body for your project. Supporters Direct is a UK government organisation assisting supporters trusts in gaining influence on their clubs, how did they help you?
At the start we received info from Richard Atkinson but did not officially join supporters direct. They are now helping us with our latest elections and we are going to ask our members if they would like to join supporters direct in the near future.
There is another group of supporters shareholders, the "Rangers Supporters' Trust". Are they still active, are you in contact (or competition) with them?
Yes the Rangers Supporters Trust are still active and doing many good things for the club. RF and RST both want what is best for the club.
How do you increase your shares, do you purchase at the stock exchange one by one, or do you need other shareholders to sell?
Since Rangers are not listed at the moment, it's slightly harder to buy shares but we have board members of RF who are constantly talking to stock brokers and trying to buy more shares.
Ranger First is set up as a community interest company (CIC). Is there a kind of control mechanism, to ensure that collected money is spent in terms of the supporters?
Our main aim is to keep on buying shares and once we get to 5% I think we should contact our members and ask what they think we should do moving forward. We're not restricted to just buying shares, we could invest in the training ground etc.
You are one of the diretors of Rangers First. As the project is growing, can you still manage to fullfill this position beside your main occupation?
I'm very lucky to have the support of my family, friends and my work place have been excellent. Being a director of RF is like a full time job but it's something that I really believe in and I hope to be re-elected so that I can keep on going and trying to get Rangers back to the top.
Rangers First holds 3.5% of Rangers shares now and is the 8th largest shareholder, how much is your impact on the club administration, are you noticed as a serious contributor?
We are now having regular meetings with the club and I hope that as we invest in more shares then we'll become a big part of Rangers Football Club in the future. I would like to thank the support we've received from yourself and the Hamburg support. I feel we could learn so many things from the Hamburg fans group. The relationship between Hamburg and Rangers has always had a strong link and I hope that we can build on this in the future. All the best
Ricki Neill